Wooden Terrain Coasters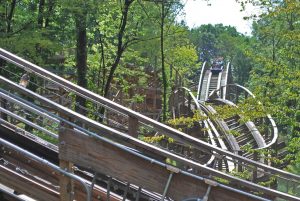 A terrain coaster follows the contours, and flow of the area it's built on. Wood is particularly suitable for this due to the amount of flexibility you can build into the track. A terrain coaster will rarely be more than a few feet off the ground, and offers a high speed thrill ride close to both ground and scenery.
Operating examples:
Beast at Kings Island, USA
Prowler at Worlds of Fun, USA
Thundercoaster at TusenFryd, Norway
Jack Rabbit at Kennywood, USA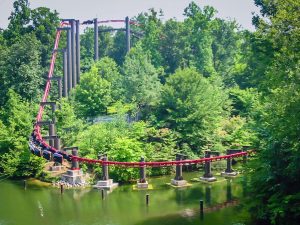 Like their wooden counterparts, there are also a variety of steel terrain coasters. Most Arrow Dynamics Suspended Coasters make use of the surrounding terrain due to the coaster's design. The same goes for Mine Trains, while others take advantage of the terrain simply because they are built on hillsides. Then there's Nemesis at Alton Towers in the UK, where the surrounding area had to be terra-formed to accommodate the B&M Inverted Coaster due to zoning restrictions.
Operating examples:
Nemesis at Alton Towers, UK
Vortex at Canada's Wonderland
Loch Ness Monster at Busch Gardens Williamsburg, USA
Quicksilver Express at Gilroy Gardens Family Theme Park, USA