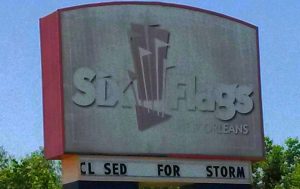 New Orleans, Louisiana, USA
February 16, 2017 – The New Orleans Industrial Development Board received three offers to purchase the former Six Flags site that was destroyed by Hurricane Katrina in 2005. The property remains mostly intact, with four roller coasters, a log flume, splash boat ride, sky coaster, and other attractions still on site. However, none of them are operational and their state of disrepair is unclear.
Board members decided to appoint a committee to review these and other offers that may come in from developers in order to evaluate and to make guidelines for purchase of the 227-acre (918,636m2) property in eastern New Orleans. The IDB will present the guidelines at its March meeting.
TPC-NOLA Inc. proposed buying the property for $3.26 million. Developer Tonya Pope said the company has partnered with Baton Rouge-based retail developer Kimble Development to build a retail center at the site. Kimble owns and manages 16 retail centers in Louisiana and Mississippi.
Pope's plan also includes a new Jazzland theme park and an adjacent water park, all valued at $50 million. She said sale and development of this long-dormant property would offer a huge boost of morale to eastern New Orleans residents after tornadoes devastated the area last week.
"Neighbors have had to see this property on a daily basis that hasn't been repaired in over 11 years, and development of this place would give them some hope," she said.
Developer Frank Scurlock, whose family developed Spacewalk Sales, made a cash offer to the board to buy the property for $4.55 million. Scurlock has now partnered with Danny Rogers of DreamLanding LTD, whose company specializes in building amusement parks.
Scurlock wants to build "Festival Theme Park" – a park based on Louisiana's festivals and an extension of his "Transformation Village" proposed in 2014. The park would be developed at a cost of $120 million.
The idea also includes an international shopping center twice the size of the Superdome that leases store space to other nations rather than retailers, a resort hotel and a life-sized replica of Noah's Ark.
Rogers has more than 50 years of experience in the entertainment industry and has also worked at Disneyland and Knott's Berry Farm. He was the CEO of Southern Star Amusement, the company that partnered with Nickelodeon to build a water and theme park at the site in 2009.
Henry Klein of New Orleans-based 30/90 Management made an offer of $5.55 million to buy the site. He said full financing for the offer is not in place and what the company plans to do with the property is unclear at this point.
Read more in our Forum discussion.