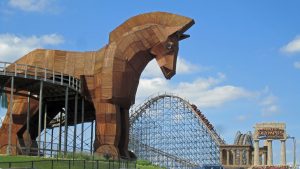 Wisconsin Dells, Wisconsin, USA
December 22, 2016 – A 16-year-old boy was killed after a fall from an outdoor water slide in a closed area of Mt. Olympus on Wednesday night, according to a news release from the Lake Delton Police Department.
The teenager, who was from Florida, fell about 35 feet (10.6m) after attempting to sled down one of the snow-covered water slides that was not in service in the outdoor section of Mt. Olympus Water Park and Theme Park Resort, the news release said.
The boy attempted "to use a plastic snow saucer (sled) to slide down the water slide," the release said. "Half way down the slide, the juvenile got caught in accumulated snow and attempted to free himself. During this time, he slipped and fell approximately 35 feet to the ground."
Efforts to resuscitate the boy were unsuccessful, according to Lake Delton EMS Director Janene Clark.
The boy and two other adolescents entered the padlocked and fenced-off outdoor area of the park, according to the news release. The boy's family were guests at the park "and were on scene shortly after the incident," the release said.
Read more about the incident in our Forum discussion.
Watch the local area TV news report about the incident.